The Ultimate Driving Lens
Transitions® Drivewear® adaptive sun lenses were designed to meet the unique visual challenges of daytime driving.
A high-efficiency polarizer blocks blinding glare both outdoors and behind the windshield, for a safer and more comfortable drive.
Lens color and darkness continuously adapts to optimize color contrast in changing daylight conditions, even behind the windshield.
Transitions® Drivewear® sun lenses block 100% of UVA and UVB, and are the only lenses that combine NuPolar® polarizing technology and Transitions® photochromic technology.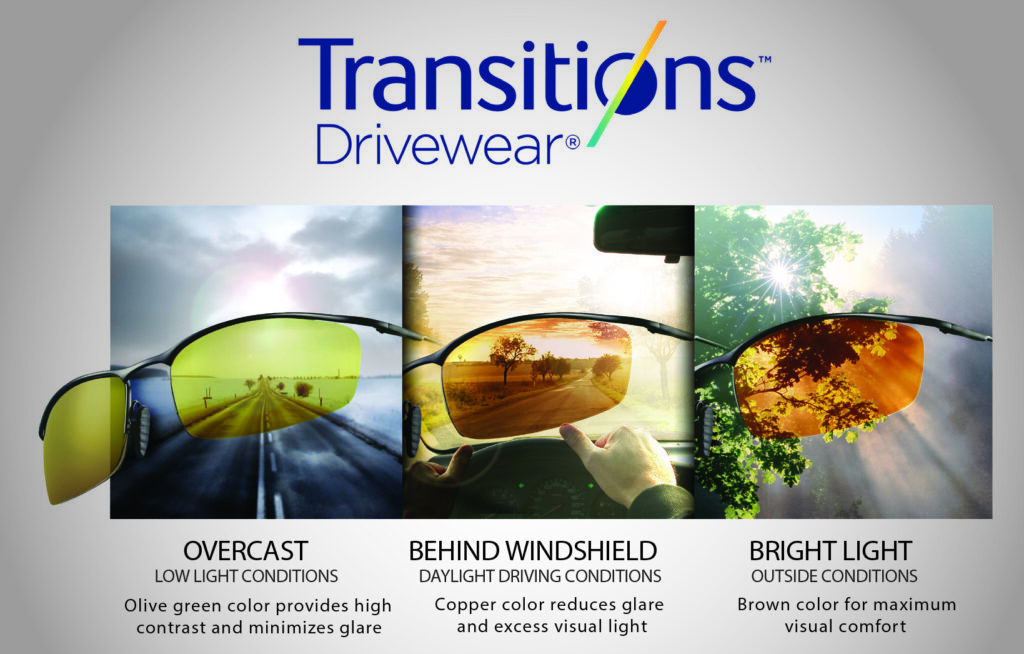 The human eye is a wonderfully designed instrument to collect visual information. Transitions Drivewear's three different activation states have all been designed to maximize the eye's natural abilities in each of the different light conditions encountered both outside in direct light and behind the windshield of a car.
Low Daylight Conditions
Olive Green Color
In low daylight, the lenses allow high transmission of light to maximize the total information to all the eye's visual receptors. This results in maximum visual acuity at this lower lighting level. The high contrast polarizer removes glare that would otherwise destroy vision in low light conditions. Wearers have said there are no better lenses for driving under overcast and low-daylight conditions.
Behind the Windshield
Copper Color
Behind the windshield of a car, Transitions Drivewear sun lenses darken to copper. In this stage, the lenses reduce light intensity and block blinding glare for optimum visual acuity. Many feel copper is the optimum color for a driving lens because it promotes preferential activation of the eye's red cones (and to a lesser extent, green cones), resulting in comfortable, crisp vision at these higher light levels. Transitions Drivewear's high-efficiency polarizer is absolutely essential when driving, because it blocks out blinding glare, one of the most dangerous of all driving hazards. This behind- the-windshield response against bright light and glare is unique among Transitions lenses.
Outside in the Sun
Brown Color
Outside in bright sunlight, the eyes' visual receptors, the rods and cones, can easily get "oversaturated" with light. In bright direct sunlight, Transitions Drivewear sun lenses achieve their maximum dark color, which is designed for maximum filtration of uncomfortable bright light. This means Transitions Drivewear sun lenses are great sunwear lenses for any outdoor activity.
Best For
COMMUTERS
Patients who have a significant commute to and from work each day. If their commute times are in the early morning and late afternoons when the sun is low on the horizon, the need for Transitions Drivewear is even greater.
PROFESSIONAL DRIVERS
Patients who make their living driving a motor vehicle, such as truck drivers, taxi drivers, traveling salespeople, bus drivers, ambulance drivers and law enforcement officers, simply should not be without the benefits of Transitions Drivewear lenses.
MOMS & DADS
The driving task becomes even more challenging with children in the car. Additionally, the consequences of an accident become even greater. Whether driving to the store, soccer practice, or school… these parents need the driving edge brought by Transitions Drivewear sun lenses.
ELDERLY
Elderly drivers may experience driving challenges such as slower reaction times and may be unable to turn their heads as quickly as younger drivers. Transitions Drivewear sun lenses offer advantages that can help. Elderly drivers love the visual comfort, glare blocking, and pleasing contrast brought by Transitions Drivewear sun lenses.
EVERY DRIVER NEEDS TRANSITIONS DRIVEWEAR
Transitions Drivewear sun lenses have the potential to greatly improve the optical industry and your business. With clearly definable features and benefits, Transitions Drivewear sun lenses are designed for the target market that includes nearly everyone: automobile drivers.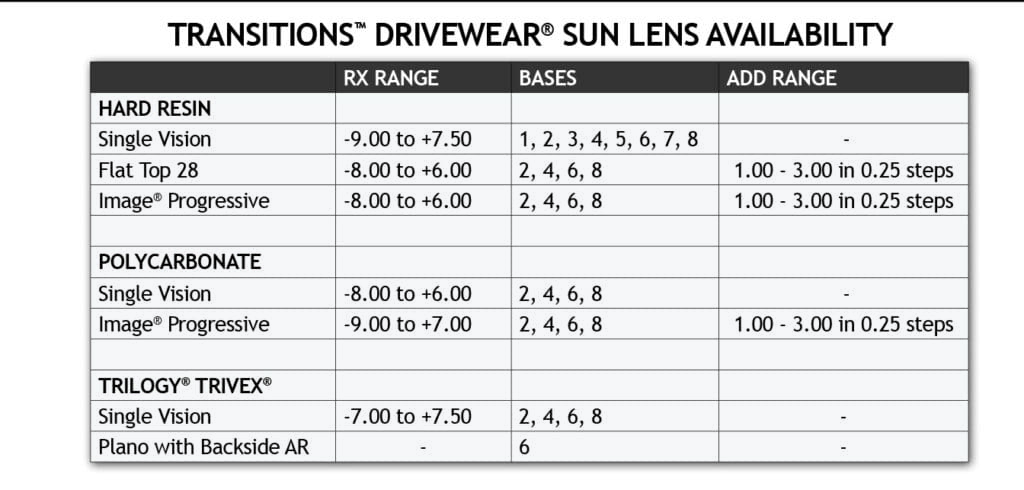 Order today from MH Optical Labs!
This content is restricted to site members. If you are an existing user, please log in. New users may register below.