Capabilities and Technology
MH Optical Labs is a modern independent lab that is always striving to make quality products with new and innovative technology and equipment. We have several departments and machinery that allow for almost everything we offer to be done in-house. Our lab is set up for seamless production, making sure every machine has a backup. We are constantly researching the newest technologies and keeping ourselves educated within the industry.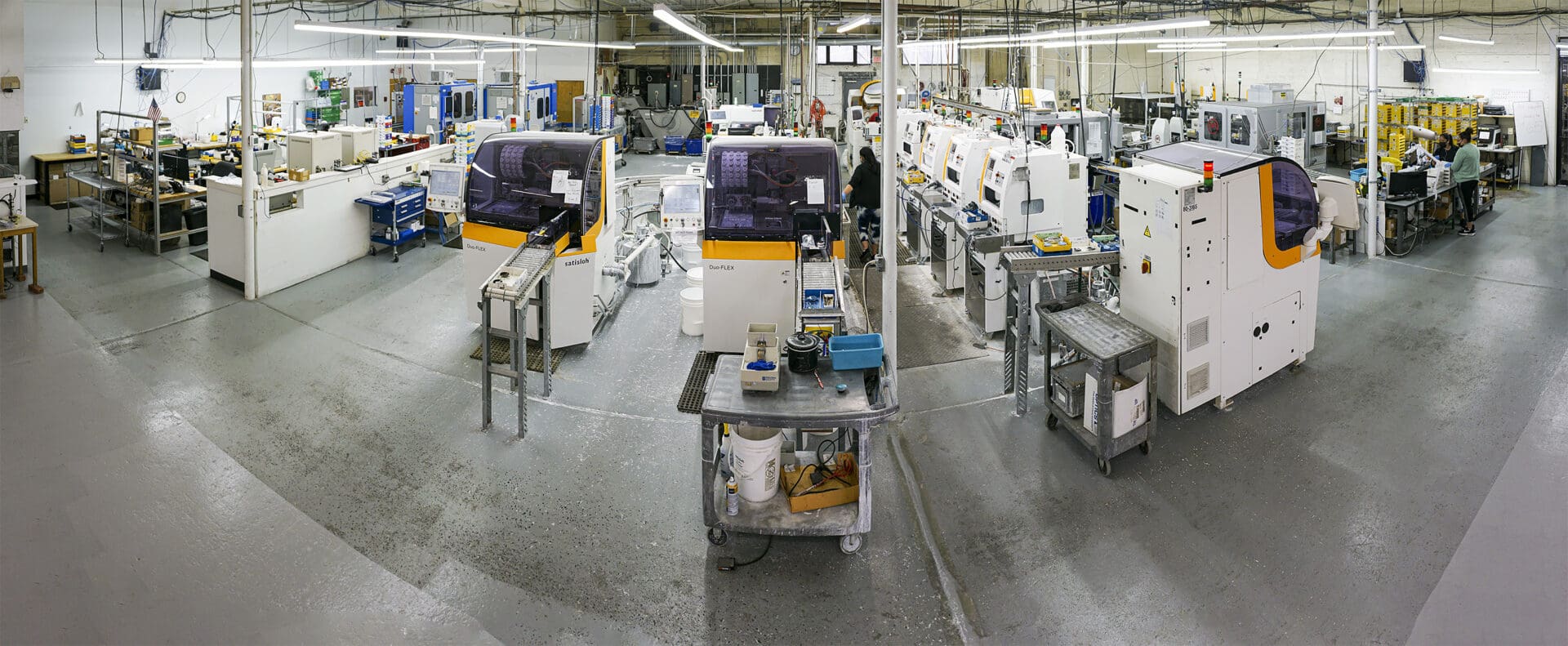 We have top notch surfacing equipment that provides accuracy and quality in our products, providing automation and quality control. Some equipment and surfacing highlights include:
Opto Tech AutoBlocker - is a fully automatic two station blocker that uses digital imaging technology to position and block each lens correctly for axis, prism, and decentration.
A&R AutoMapper - allows for 100% production control with non contact measurements. This machine compares the expected design to the real lens and provides an error map to catch imperfections that you can't even see with your eye before the lens leaves the lab. This machine also offers control of power, cylinder, and axis at DRP and NRP in accordance with the ISO standards.
Satisloh VFT-orbit-2 Digital Generator - covers all production processes: cribbing blanks to the final lens diameter, milling and turning even the most complex designs, and mechanical engraving semi-visible marks. This comes with an ultra-fast milling spindle to allow for an average generating time of 8-10 seconds per lens, and a second fast tool that allows for different turning tips for different materials.
Teco X-Cube Lens Digi-Speed Printer - this machine allows digital printing on all lenses. Completes a very fast cycle by manual loading and provides perfect printing geometry on whatever lens curve. It allows us to print on edged and non-edged lenses with solid ink that is instant drying, easy to remove, no ghost images, and leaves no residues.
Our edging department offers custom tints, assembly and repairs.
MEI Bisphera and Racer - these block-less machines satisfy fast turnaround of quantity and quality. With our MEI machines we are capable of edging even the most difficult jobs with a high level of precision and accuracy. We can quickly cut any shape, bevel edge, holes, and profile with the advanced software included in the machines.
MEI EasyFit Trend -  features an innovative tracing system that further increases the overall productivity, and a new modern and compact design. The built-in inspection instruments assure the precise automatic measurement of all the optical parameters, avoiding any other inspection process before and after the edging. This machine will allow for faster turnaround times on project jobs and custom engravings.
We are one of the longest independent labs to offer in-house AR. We have a variety of coatings to give customers durable lenses while creating the clearest vision possible. We also provide mirrors and flash mirrors. We do not limit the application of coatings to in-house lens offerings, and we accept customers lenses to apply our coatings. Some equipment and coating highlights include:
Satisloh MC-380-X - is a box coater for top coating, Anti-Reflective (AR), mirror lens, and specialized coatings that offers coating reliability and multiple coating process in one run.
Satisloh SL-DC-S Hard Coat Dip - is a fully automatic ultrasonic cleaner and thermal dip coat machine for ophthalmic lens cleaning and hard coating.
Bühler Syrus 1100 - is the most productive and cost-efficient ophthalmic coating plant to be found on the market today. Designed for large batches, classic stock lens mass production and RX production, SYRUS 1100 delivers unparalleled cost-benefit ratios. This will increase capacity to over 140 lenses per run, allowing for shorter turnaround times in the AR Lab.