Eyezen has become popular with the staff here at the lab.

"I'm a -5.00 -.50 OU, so my distance vision is, of course, pretty poor," says Ryan Sussman, MH's Director of Sales and Marketing. "Trying to read a book or my iPhone with my full distance Rx is uncomfortable, but wearing no vision correction isn't an option, either. I have a pair of Eyezen 3 and that boost is great. We in the industry know that there isn't any pair of glasses that are perfect in every situation, but Eyezen is a great way to make someone's standard pair more versatile."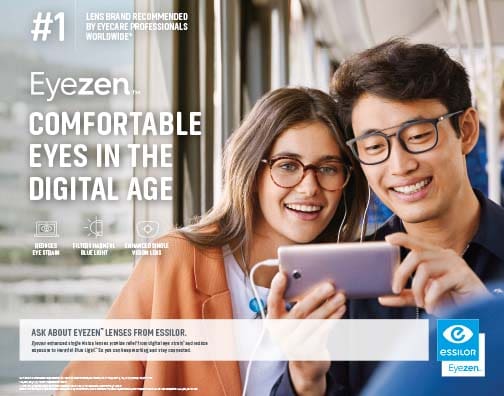 Eyezen+ digital lenses help protect against Digital Eye Strain, which has caused visual discomfort in the majority of Americans, and also reduced exposure to Harmful Blue Light (HBL) by a minimum of 20% with embedded protection. These lenses are designed with W.A.V.E. Technology (Wavefront Advanced Vision Enhancement®) to provide sharper vision than traditional single vision lenses, giving a more complete vision solution to modern vision problems, even in the peripheral.
5 different levels of accommodative relief for single vision patients in every age group: *these are the recommended age groups for each Eyezen+ product.
EYEZEN+ 0 EYEZEN+ 1
17 and under 18 to 34 yrs (0.00 diopters) (0.40 diopters)
EYEZEN+ 2
35 to 39 yrs (0.60 diopters)
EYEZEN+ 3
40-44 yrs (0.85 diopters)
EYEZEN+ 4
45-50 yrs (1.10 diopters)
All Eyezen offer protection from harmful blue light. As you may know, studies have shown that long-term, cumulative exposure to Harmful Blue Light is a risk factor that may contribute to age-related macular degeneration. There are a growing number of sources of Harmful Blue Light that we encounter on a daily basis, including many of the electronic devices that we can't live without, including smartphone and computer screens. Certainly with so much schoolwork moving to computers, children are at a great risk, as well.
With experimental data indicating that blue-violet light acts as an inducer of oxidative stress on the retina, the demand for blue-violet light protection against retinal pathologies is clear. It is equally clear that when designing ophthalmic lenses, it is important that they filter Harmful Blue Light (blue-violet) while also ensuring that the beneficial blue light (blue-turquoise) reaches the retina during the day, so patients should understand the importance of going to a professional for trusted and proven products.
Beyond Harmful Blue Light, EyeZen can make sense for the visual quality they provide. Patients who generally would be considered as single vision can noticed improvements by introducing them to small levels of addition power.
This content is restricted to site members. If you are an existing user, please log in. New users may register below.